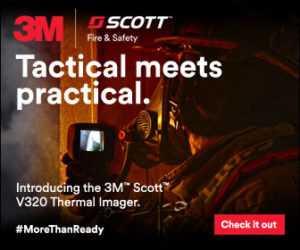 Sensor, Design and Battery Life Make V320 Tactical Grab-and-Go Solution for Any Fire Station
Monroe, N.C. (October 18, 2018) – 3M Scott Fire & Safety, a global leader in innovative protective equipment and safety devices, is launching the V Series of thermal imaging cameras, and the line debuts with the V320, a simple, lightweight and tactical thermal imaging solution.
"Firefighters are increasingly looking to thermal imaging technology to help them make faster, safer decisions on the fireground," said Jeff Emery, global business unit leader, SCBA and fire solutions for 3M Scott Fire & Safety. "The practical design, high-quality performance benefits and affordability of the V320 make this new thermal imager an integral component of any fire department's toolbox."
The V320 has a high-resolution 320×240 sensor that allows firefighters to navigate through zero visibility conditions. Lightweight at 2.2 pounds and ruggedly durable, the V320 performs in extreme high temperature environments with minimal maintenance. Additionally, the new V320 has a removable, rechargeable battery that offers up to eight hours of service.
"The long-duration battery life and the ability to remove the battery for recharging ensures the firefighter never needs to take the V320 out of service," said John Graves, global portfolio manager for thermal imaging solutions with 3M Scott Fire & Safety. "It is small, lightweight and durable and offers easy, one-button On/Off, yet it doesn't compromise on its ability to provide firefighters with the mission-critical information they need to make better decisions in extreme conditions.
"With one in every riding position, departments can get more visibility in all conditions and be more than ready to handle modern fire scenes," Graves said.
The V Series complements 3M Scott's high-tech X Series of thermal imaging cameras, which includes its high performance X380N. The X380N thermal imager, which has been updated to meet the requirements of NFPA 1801, 2018 revision, provides high image quality (384X288) and advanced technology capabilities including 2000°F dynamic range, Tactical Color, integrated laser pointer and Hot and Cold Spot Tracker.